Tombili was one of the many street cats in Istanbul. A statue was erected to honour her and this is the story behind it.
Cities in Turkey, and Istanbul as the largest one, is famous with cats roaming free. Although the cats live o streets, it is hard to call them strays or feral cats. They co-habit with people for centuries. They are part of urban culture in the cities in Turkey. Recently an award-winning documentary on the lives of cats in Istanbul was in cinemas.
Individuls and sometimes municipalities take care of the needs of these beloved animal neighbours by feeding them and taking case of their health issues. For winter times, some individuals, NGOs and some municipalities locate cat houses on streets to help them to survive in colder days.
Tombili was a beloved cat citizen of Istanbul and roamed free on her street for almost 10 years. She became an internet celebrity when his famous pose is posted on the net. Tombili means chubby in Turkish and she is called as Tombili by her fellow humans for obvious reasons. A statue was erected on her favorite spot for her memory after her death.
The Famous Photo of Tombili (Tombili Facebook Page)
People loved her so much. She became a mascot for the street with her laid back lifestyle. After her death, people started a petition to honour her and collected more than 17000 signature, which let them to erect the statue in October 2016. I am not quite sure if it is the only street cat statue in the world, but it took an attention from the media all over the world.
Unfortnately, not everyone values the friendship between Tombili and fellow humans. The statue was stolen in November in the same year, almost in a month. It sparked an outrage in the public and on the internet. Social media outlets were flooded with anger from people condemning the culprits.
Kadikoy municipality, the council which erected the statue twitted "It is stolen" with a crying cat emoji:
The thieves could not be indifferent to this massive outcry, and returned the statue to its place within a week. The statue is now on Ziverbey Street, Kadikoy, where it belongs. Tombili is still in her neighbours' lives with this statue.
The Tombili statue on Ziverbey Street (Image Credit: Tombili Facebook Page)
And this is the story of Tombili and her legacy.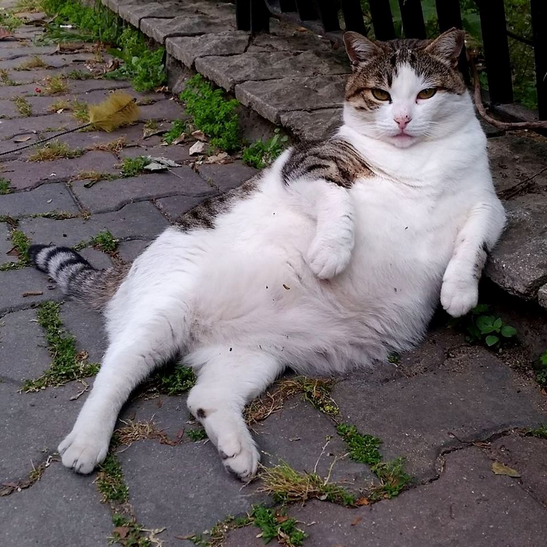 Tombili (Image Credit: Anadolu Kedisi / Huffington Post)