Wide spread of gated communities is global with different scales, characteristics and contingencies.
Gated communities and vast, privately built and managed "new towns" like these have spread across southeast Asia over the last 20 years as rising levels of inequality have redefined the region's cities. Vietnam as a whole has seen a dramatic reduction in poverty over the same period – but inequality is growing, and becoming increasingly marked in the country's expanding urban areas. (Guardian)
Rise in equality is the major drive behind this spread. Check this out rent for a villa in Ciputra housing enclave is 25 times the minimum wage in Vietnam! 25 times!
Beyond Ciputra's walls, villas painted shades of beige are set amid lush private gardens – with price-tags of as much as £3,000 a month to rent (25 times the minimum wage). A world unto itself, the complex is a land of Greek revival architecture, tennis courts and amenities including a beauty salon and a post office. The United Nations International School moved there in 2004, followed by two other private schools, and a private kindergarten. Under construction still are a mega-shopping mall and a private hospital. (Guardian)
Well take a deep breath, or not! The most disgraceful part of the story of Vietnam's housing enclaves is the commodification of air!
While security concerns and a fear of urban crime are typically among the motives driving the elite behind walls in cities in South America and sub-Saharan Africa, in Hanoi developments are increasingly being marketed as exclusive enclaves of convenience and clean air, away from the air pollution and traffic congestion of the city. (Guardian)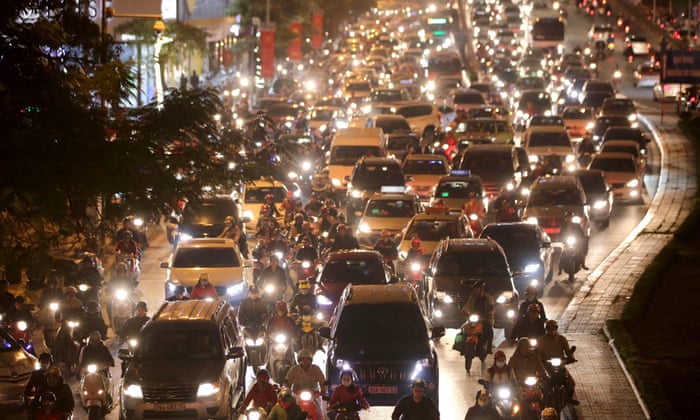 Traffic in Hanoi, Vietnam         Image Credit: Guardian
But, not everything is smooth, thanks to ordinary folk 🙂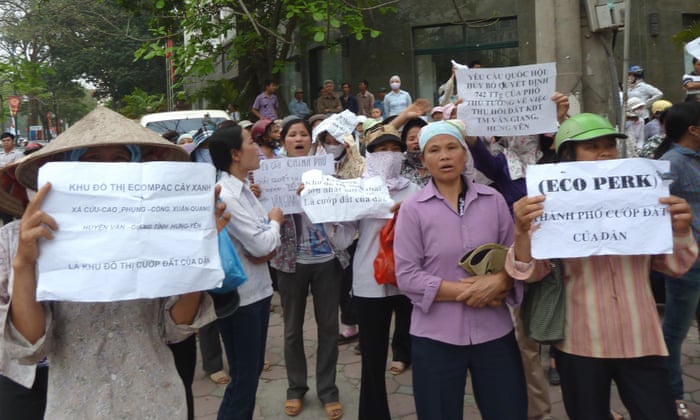 Locals protesting development of a housing enclave Image Credit: Guardian
For the full story check Inside Hanoi's gated communities