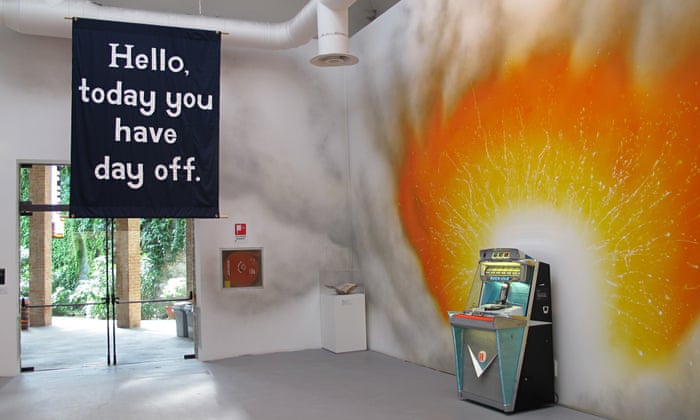 Image credit: Venice Biennale
The rights and plight of workers pervade the sprawling main exhibition of this year's Venice Biennale. The artworks inside the imposing white central pavilion and the medieval dockyard buildings include US photographer Walker Evans's images of poverty-stricken farmers in Great Depression-era southern Alabama and a huge banner by an artist activists' coalition, Gulf Labour, about the exploitation of migrant workers in the United Arab Emirates. (Guardian)
Venice Biennale this year takes attention with the critical position to contemporary working conditions. One of the most striking works in the Biennale is Jeremy Deller's installations. The artist relates harsh working conditions of the Industrial Revolution period with today's practice like zero-hour contracts and performance surveillance at work.
On one wall is a series of Victorian photographs of anonymous female ironworkers from south Wales, who look startled and exhausted after a day's work of breaking rocks, entitled The Shit Old Days.
On the same wall as the anthropological photographs of the Welsh women is a mannequin arm bearing a Motorola WT4000 tracking device like those used in Amazon warehouses to monitor the speed and efficiency of workers, which delivers warning messages if they are falling behind schedule. (Guardian)
The some installations at Biennale exhibition is a part of Jeremy's project All That Is Solid Melts Into Air, some pictures of which can be checked here.